If your hard drive clatters and doesn't spin up properly when connected, it's probably a problem with lack of current. This was one of the first problems I ran into when I set up my media center.
My first idea was to use a powered USB-Hub, but then you have another device with cables lying around… which is not very fancy.
I found out there is another better solution. 🙂
There is an easy trick to channel more current out of all 4 USB ports. All you need is to add one entry in the config.txt file.
max_usb_current=1
You just need to write this entry at the end of the config.txt file and you're done.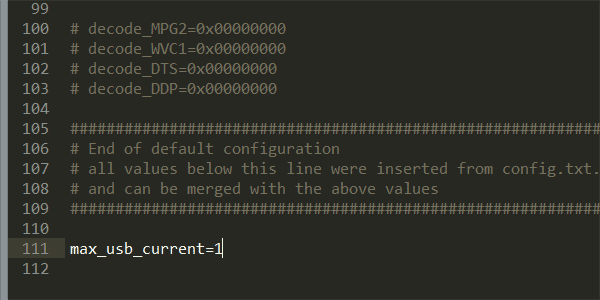 By default all 4 USB ports provide 600mA current, thanks to the added command you'll increase the current to 1200mA.
With this trick power hungry usb devices shuldn't be a problem anymore. My rattling usb drive now spins up properly and I'm able to access my files. 🙂
Where can I find the config.txt file?
There are different methods to access your PIs SD card. Easiest way is to put your sd card into a card reader connected to your computer.
Hope this short article helps some of you having this problems. 🙂