By now there is a big variety of cases for the Raspberry Pi 2. I reviewed some of them and wrote this aricle to show you the different possibilities to choose from.
You can find a case in almost every pricecategory, from ultra cheap china case to high end case made out of aluminium.
Notice: The cases I linked on Aliexpress are usually cheaper than cases from us or uk shops, but shipping takes from 2 – 4 weeks and you need a credit card to pay.
1. Cheapest transparent Raspberry Pi 2 case
This transparent case costs about 1,70€ incl. shipping on Aliexpress. It's made up of 5 pieces which you need to plug together. It's not very fancy, but it serves its purpose. Additionally it has openings in the top cover to use all internal connections of the Pi.
Amazon: 6,49 $ Aliexpress: ca. 1,91 $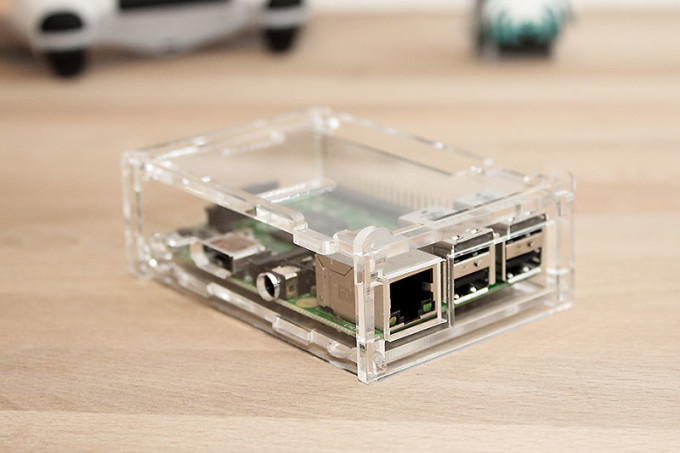 2. Official Raspberry Pi 2 case
A really well thought ou case, which is neraly suitable for every purpose because of its modular design. You can remove all white plastic parts, in case you need to use the GPIO pins.
For a price under 10€ you'll get a pretty good case, which combines good quality and optic.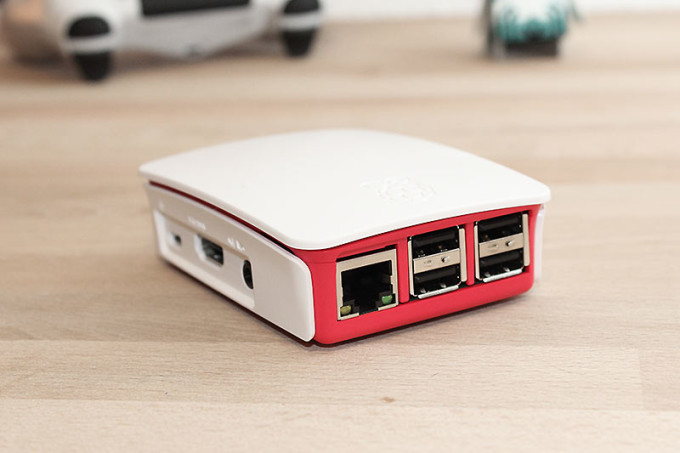 3. Acrylic plate Case
While browsing on Aliexpress.com , I came across this interesting…I call it stacking case. It looks a lot like the Coupé Ninja Pibow case, only cheaper and surprisingly the quality of screw connections is better than the original. It consists of 5 flat plastic layers, which wrap up the Pi while letting enough space for heatsinks and all connections. Your Raspberry Pi stays pretty flat with this case.
Amazon: 11,39 $ incl. heatsink kit  Aliexpress: ca. 3,50 $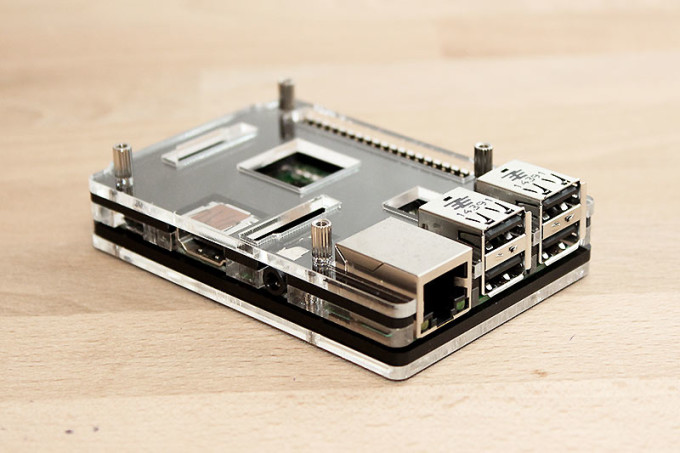 4. Plastic case (Black Slim Edition)
Becaus of its curves this case stands out against the other cases. It is screwed at the bottom side, which supports the stability. It's available in black, white and transparent. Optimal price-performance-ratio!
Amazon: 6,59 $ Aliexpress: ca. 2,30 $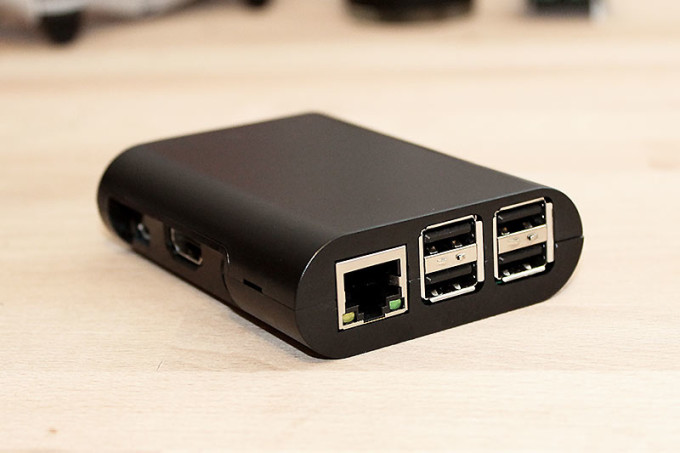 5. S-Case Aluminium Case
At a price of 60€ one could expect a good case, and that's exactly what you get with this high end case from S-Case. It's not only high quality manufactured, it also provides a brilliant cooling concept for your Raspberry Pi 2. Inside of the case you'll find 2 sockets, which seat on the processor and LAN/USB controller chip and distribute the heat within the whole case. Thereby you can overclock your Pi 2 without any problems with overheating. The high quality workmanship leaves no desires unfulfilled. Everything fits together perfectly and feels valuable. When you buy this case you'll get thermal pads, rubber feet and an Allen-key for the screws.
At the manufacturers site you can choose between colors silver, titan grey and titan blackm as seen on my pictures.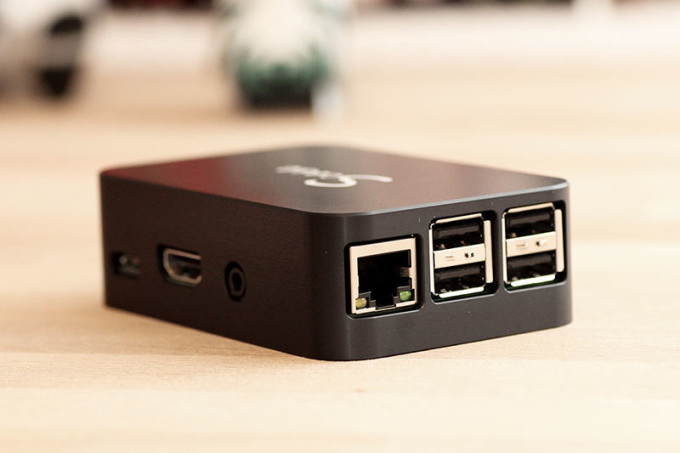 6. TekBerry plastic-case
Here you can see on of my current cases, which I modified a little. The label and the IR-receiver are not included with this case. I'm pretty happy with this case, only thing I dislike is the fact that i's just stacked together, not screwed.
I attached the case to my TVs backside using Velcro tape, so if I take the case of, the cover detaches instead of the whole case. Could be a problem for some people, for me it's okay.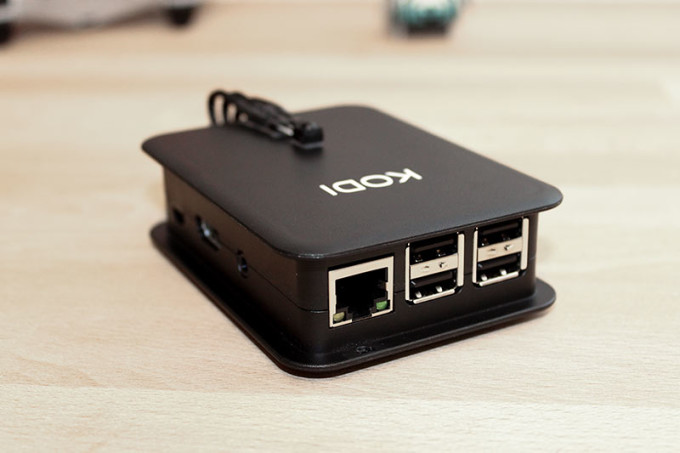 7. OneNineDesign Case
For this case to fit properly, I had to remove a small plastic piece. But as I read in comments, it is already prepared for Raspberry Pi 2 lately.
To cut long story short, you'll get a pretty nice glossy case here… it looks perfect when you unpack it, but later you'll see every little dust grain and scrath on it. However I really like the design. There is an opening at the top cover, where the heat can get out and where you can feed cables through, for example cables from GPIO pins.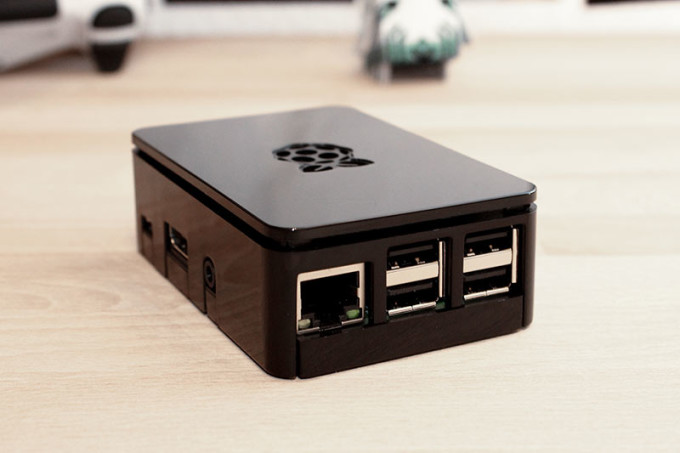 8. Orbital Case
The Orbital case from the german manufacturer Polypodis doesn't only look good, it also offers the advantage, that all cables are led to one side. So you can place it in front of your tv, without having cables plugged in from each side. The round case is made up of plastic and premium varnished. Delivery contents are required screws and rubber feet. In case you want to mount it to the wall, it has holes for wand installation also.
Finally a case, which I can place into the living room without having to hide it behind the TV. I'm really happy with it. 🙂
Additionally as an AwesomePi reader you can get a 5% voucher directly in the manufacturers shop.
Manufacturers shop: 14,99 € (exclusive 5% discount voucher: POWERPI5)
Amazon: 14,94 £ 
electronic cutting tool
and the case offers so much free space, I came to the idea … check it out yourself 😀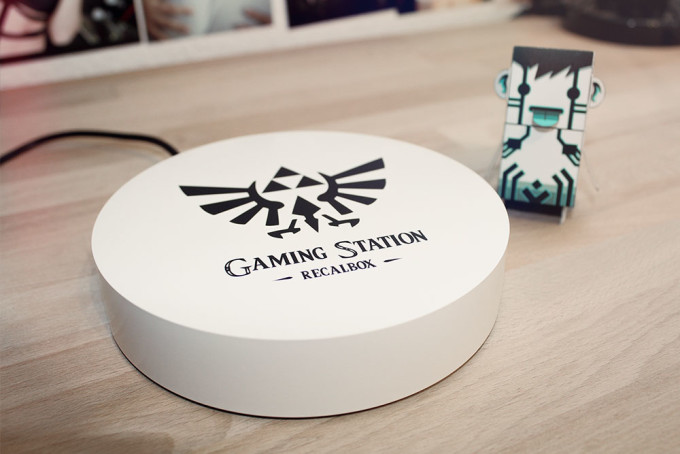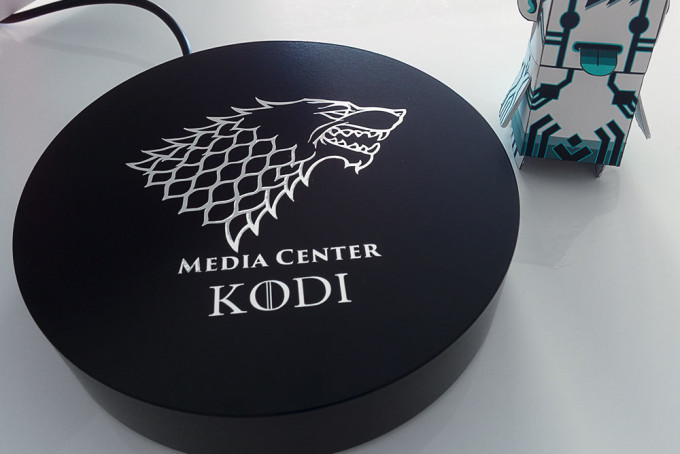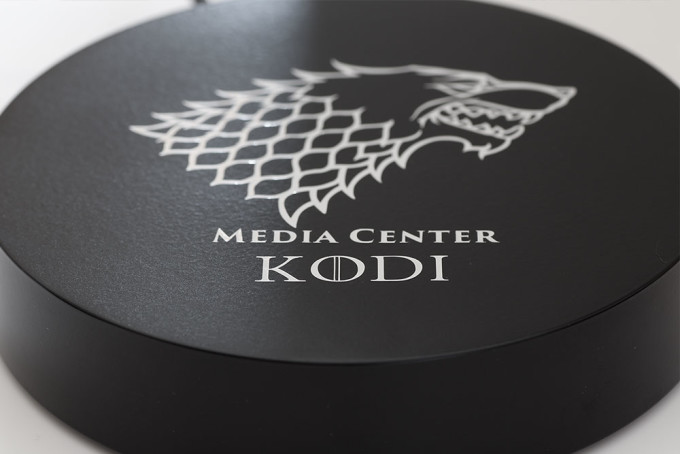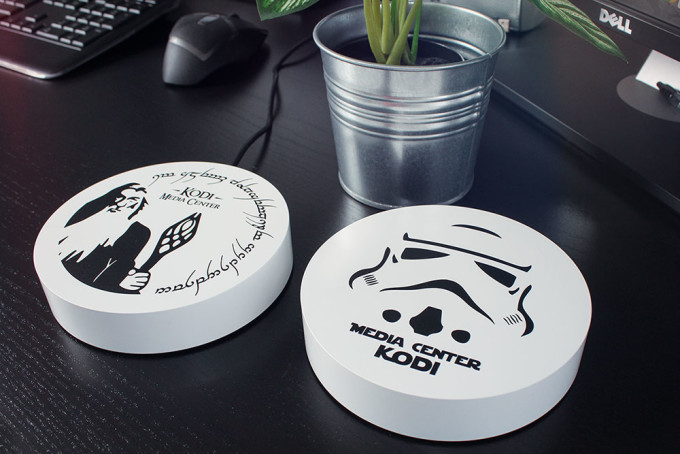 9. Flirc Raspberry Pi 2 Case
Another pretty case made out of aluminium. Again, the metal is being used to cool the Raspberry. You'll also find a socket in the inside, which seats on the processor and distributes the heat into the case.
The top and bottom side consits of some kind of rubber which feels "velvety" and high valuable. At the bottom, you can also find a little hole to lead some cables through. For example for an ir receiver. 🙂
In case you prefer to buy your case on ebay, i created an extra list with my recommendations:
| Case | Recommendation |
| --- | --- |
| Cheapest Transparent Case | US UK CN |
| Official Raspberry Pi 2 Case | US UK CN |
| Acrylic Plate Case | US UK CN |
| Plastic case (Black slim) | US UK CN |
| Flirc Raspberry Pi 2 Case | US UK |
| Tekberry Plastic Case | UK |
| OneNineDesign Case | UK |
| | |
If you have any questions regarding the cases or you want to recommend other cases, just leave a comment below. 🙂